BDCOM FTTH Solution
Shanghai Baud Data Communication Co., Ltd. (BDCOM), founded in 1994, has always adhered to the concept of science and technology, and dedicated itself to development and production in the field of data communication, providing mature and rich solutions for customers all over the world. The prominent BDCOM fiber-to-the-home (FTTH) solution based on XPON technology, successfully covering more than 100 operators and ISPs in more than 50 countries around the world, is one of the ideal choices for home broadband coverage.
BDCOM XPON product line consists of complete EPON and GPON products, ranging from high-, medium- and low-density OLT and ODN devices to SFU, MDU and HGU at the terminal. BDCOM can provide complete solutions and product supply for operators and ISPs.

Application Scenarios of BDCOM FTTH Solution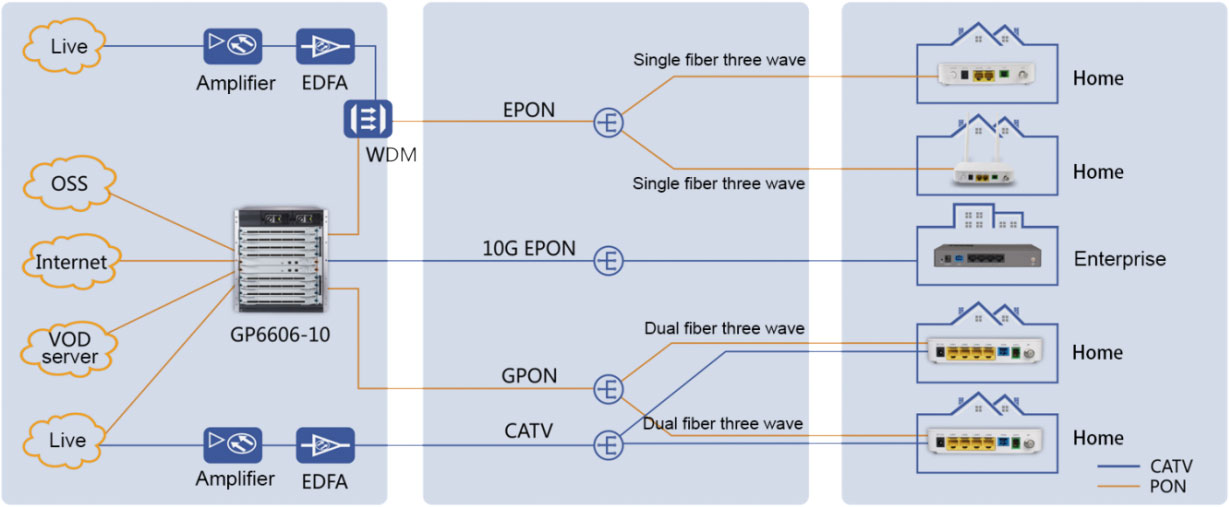 Overview of BDCOM FTTH Solution
BDCOM can provide scenario-based EPON, 10GEPON and GPON FTTH solutions, among which OLTs include 4-16-port stand-alone EPON OLT P3600 series, 8-port stand-alone 10GEPON OLT P5520 series, and 8-16-port stand-alone GPON OLT GP3600 series, 128-ports XPON chassis-type convergence platform OLT GP6606 series with 6~10 slots. BDCOM FTTH solution can completely adapt to FTTH applications of different scales and different scenarios, and realize EPON/GPON/10GEPON hybrid networking through one GP6606 converged platform, providing customers with the best cost-effective solutions.
According to user scenarios, BDCOM can provide optical splitters from 1:N to 2:N with different installation methods for rich options.
Based on the accumulated user feedback from the FTTH market, BDCOM has developed a wide range of ONU products to support EPON/GPON self-adaptation, which covers 1~4 ports SFU, 4~24 ports MDU, industrial ONU, POE ONU, and voice/wireless/CATV integrated ONU.
With nearly 20 years of experience in the field of XPON, BDCOM FTTH solution can provide customers with accurate business support, operation and maintenance scheduling and after-sales guarantee. The solution provides users with high-bandwidth access, refined flow control, accurate business matching and scheduling, real-time operation status detection and alarms, daily software system maintenance, and cloud-based light operation and maintenance.