BDCOM PON Campus Network Solution


Overview
With the implementation of the national strategy for promoting science and education, campus network construction has gradually become a fundamental infrastructure project for schools, serving as the foundation for modern education. The campus network can assist schools in achieving e-learning, digital libraries, dormitory broadband, extracurricular entertainment, campus surveillance, and more, enhancing the quality of education and campus life. Depending on the scale of the campus, different network architectures can be employed, such as the standard core, aggregation, and access layer design for universities, or the flat design with aggregation and access layers for primary and secondary schools. Currently, most campus use switch-based networking at the access layer (based on RJ45 Ethernet cables), which has many issues, including multiple points of failure and maintenance difficulties.

Solution
In response to the demands of campus network applications and considering the current status of campus networks, BDCOM has introduced a solution based on PON (Passive Optical Network) technology for full-fiber access. This solution effectively addresses the challenges faced by the campus network's access layer, enhancing network security, reducing network failures, easing maintenance efforts, and significantly improving overall network quality.
Overall Layout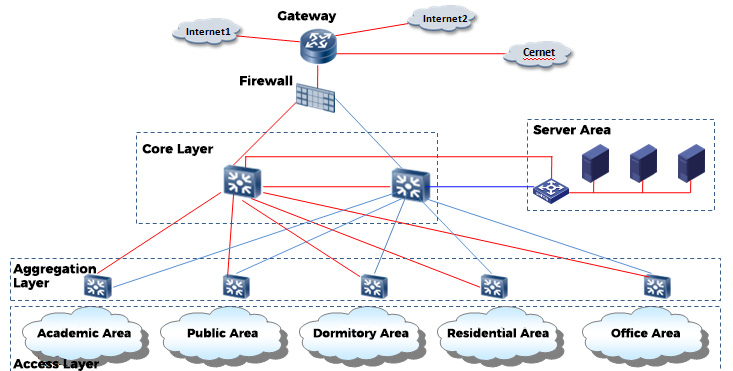 Access Layer Network
Academic Area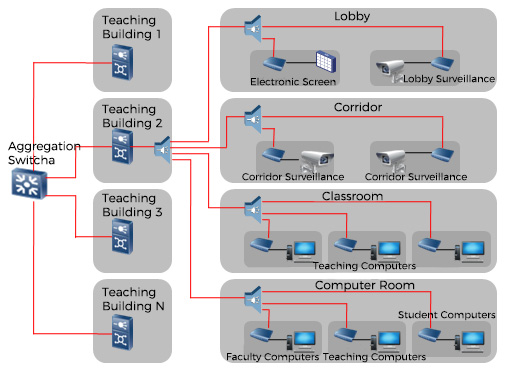 Dormitory Area
Public Area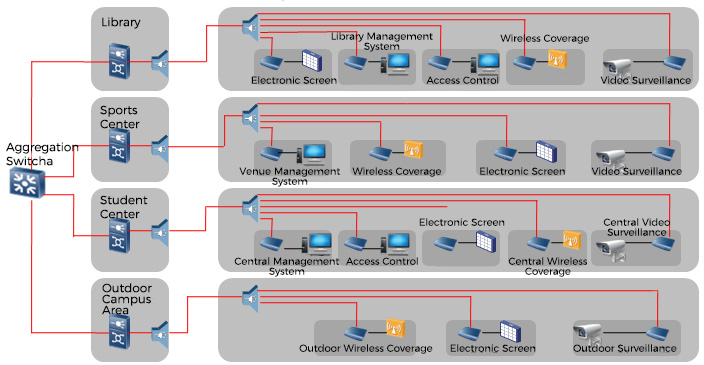 Office Area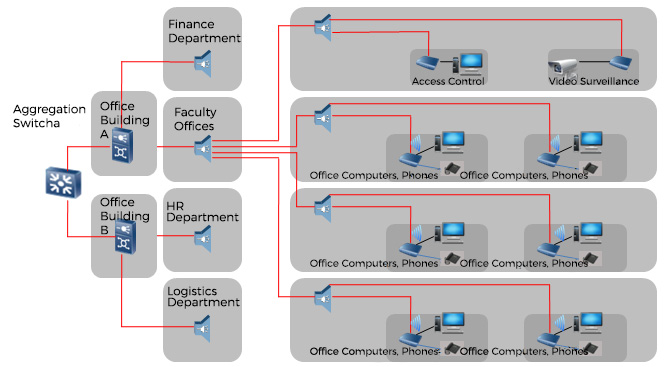 Key Features of the Solutio

n
● Low Investment:
Based on the PON technology, the entire ODN (Optical Distribution Network) requires no additional power supply, resulting in significant power savings. Full-fiber access enables simplified construction, reducing the project scope and saving on cost.
● Easy Maintenance:
Based on the PON technology, the ODN has minimal failures, effectively reducing the network system's failure rate and reducing maintenance workload. Integrated management of the PON system facilitates easy administration by network operators.
● High Security:
Data transmission between PON systems is encrypted, supporting various access layer authentication mechanisms to enhance network security.
● High Efficiency:
It supports downstream speeds exceeding 1 Gbps, providing high-speed bandwidth. Comprehensive QoS (Quality of Service) mechanisms ensure effective and precise classification of services, guaranteeing network quality.